East Cooper Medical Center: Janie Sinacore-Jaberg, CEO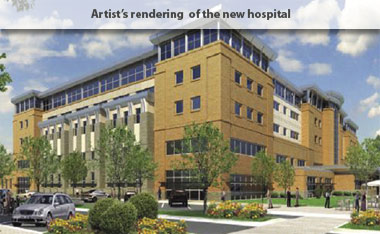 The position of chief executive officer is associated with power, strength and leadership. Ironically, these talents also are attributed to the important role of motherhood. To the people who know her best, it's no surprise that Janie Sinacore-Jaberg has mastered them both.
With more than 30 years of experience behind her, Jaberg now heads East Cooper Medical Center in Mount Pleasant and is overseeing the construction of the hospital's new facility. Her talent and expertise are known to many in South Carolina, Georgia and Ohio, but what many do not know is that for this career woman, the most important title in her life is mom.
"

Our new hospital will be fantastic, but it is only as good as the people working in it, and I have to say our medical staff and team is impressive. They care about the community and they care about this hospital...

"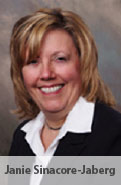 "She is an amazing woman," boasts Lauren Sigler, Jaberg's eldest daughter. "She has a tremendous feel for everything that goes on in the hospital."
Jaberg has held important positions throughout her medical career, starting as a staff nurse before moving on to become an orthopedic surgical coordinator. Stints as director of Surgical and Critical Care Services, director of Clinical Services and chief nursing officer followed before she was named chief executive officer at East Cooper. As a woman in medicine, she has had to work harder and smarter than her male counterparts and even endured ridicule when she decided to move from nursing to administration.
"An individual made the remark when I was promoted that I was 'taking another nurse away from the patient's bedside' and my reply was 'no, there will now be another nurse at every patient's bedside.'"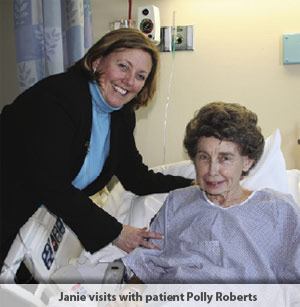 Her aim was to follow her passion in life by eliminating the proverbial glass ceiling.
"With the help of male and female colleagues alike, I was able to break through," she says, noting that the medical field is rife with men and women who share her compassion but are unable to incorporate it into the administrative side of the business.
"I will never apologize for being passionate and emotional about what I do. ... it's what makes me who I am," Jaberg explains. "I do, however, hold people accountable. Someday, someone else will need to fill this chair, and I want them to be successful."
Raising two daughters while pursuing a high-powered medical career has been a juggling act but one Janie easily mastered, according to her daughters.
"She always came to us first before making any big decisions about her career," says Lauren. "But her career never really entered our family life. She has always been there for us."
Lauren, who earned a degree in Business Management and works as a paralegal, recently decided to apply to nursing school.
"I'm following in her shoes, which are pretty big shoes to fill. Our mother is willing to throw on an apron or grab a broom and mop if that is the work that needs to be done. She is just that type of person. She is ready for any challenge," Lauren shares.
Julie Sinacore, the youngest daughter and a Biomedical Engineering student, explains that their family is definitely Jaberg's first priority.
"We motivate her but she motivates me, too," she says. "When I was younger, I would join her at the hospital for family day. She inspired me to choose my career path."
Not surprisingly, Jaberg will tell you that her own mother, Jean Race of Louisville, Ohio, was her inspiration.
"I taught my girls the same thing my mom taught me, and that is to never let anyone stop you or say you can't be what you want to be, because the only one who can stop you is you. Secondly, surround yourself with people who will support you."
This is a message she has presented at many at high school career days and college seminars, as well as to her colleagues.
"It's not just for my girls. I want all young women to get the message. There is always something good out there if you are willing to look for it," Jaberg says.
Even with 14-hour workdays, her roles as mother, wife and CEO co-exist on a daily basis. She might be responding to a quick message from the girls one moment and providing the necessary leadership that is "key to the success of any chief executive officer" the next.
Twice Jaberg has sung the national anthem at her daughters' senior soccer games and, at Lauren's wedding, the three danced to Lee Anne Womack's uplifting song "I Hope You Dance." It is a song that succinctly promotes the relationship between mother and daughter and the lifelong lessons of humility, strength and courage.
Jaberg's tenacity and willingness to take on any challenge, even the operation of a 104-bed acute-care facility while overseeing the construction of a new 140-bed acute-care facility, are inspiring.
"Our new hospital will be fantastic, but it is only as good as the people working in it, and I have to say our medical staff and team is impressive. They care about the community and they care about this hospital," Jaberg says with pride.
Jaberg views her life and career with optimism, seeing the glass as half full, and believes her attitude has helped her deal with several setbacks. Her goals are clear and simple: to boost East Cooper Medical Center beyond its current successes while continuing to be the best mom on the planet.