Mental Attitude And MUSC Doctors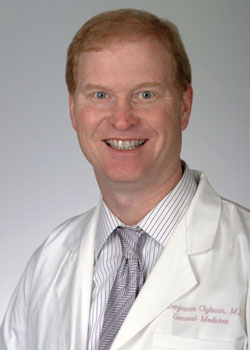 College of Medicine
Oath Ceremony
Thursday, May 18, 2006
Reading
E. Benjamin Clyburn, M.D.,
Associate Professor of Internal Medicine
As educators, we often divide competency into knowledge, attitudes and skills. All three of these are important, and the fact that you are sitting here today attests that you possess the knowledge and skills to move forward in your training. I would argue that from this point forward that your attitude is far more important that your knowledge or your skills. The next several years will be the most challenging of your careers and your approach to work, patients and relationships will be crucial to your success. Thomas Jefferson stated that "Nothing can stop the man with the right mental attitude from achieving his goal; nothing on earth can help the man with the wrong mental attitude."
The good news about this is that we alone choose our attitude. To quote Dwight D. Eisenhower, "The history of free man is never written by chance but by choice- their choice." I would encourage you to be proactive rather than reactive in this decision. Enter your residency with a commitment to work hard, communicate effectively, and treat your colleagues with respect. Behave and dress professionally. Maintain your sense of humor and learn enthusiastically. Treat your patients with compassion and humility. Avoid using words for patients like 'hits, rocks, cases, clients or customers." Make the time to take care of yourself. Realize that you will face challenges at home and at work, but you alone can determine how you face these challenges.
The last thing I would say is "Have Fun". I know that sounds trite, but the Russian novelist, Tolstoy, wrote "If you are not enjoying your work, you should either change your attitude, or change your job." We have the honor of caring for people as we learn. I cannot imagine anything more enjoyable.
Reprinted From 2006 MUSC Oath Ceremony